TJ Shoesmith – member of The Inner Magic Circle London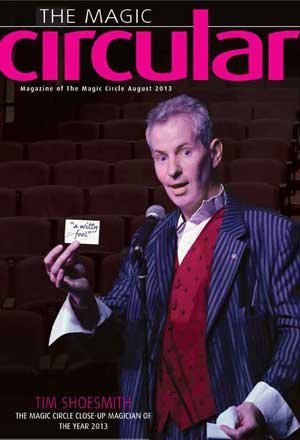 So what is this mysterious organisation called The Magic Circle London? Well, first of all, it's not so mysterious! Indeed if you want to visit then we will welcome you with open arms. Performances happen regularly at our headquarters in London. If you want tickets then call +44 1322 221592 and speak to the office.
A massive thank you for your sterling job yesterday. They loved you!

The Magic Circle
TJ has performed literally hundreds of times at The Magic Circle London at its Head Quarters near Euston Station.
Magic Circle Award Winner – Year 2013
Tj won the competition in March and has made several appearances on Radio and TV since talking about the win and what it means to him and his career.
Finalist in the Stage Competition 2013
He was one of eight acts chosen by the Magic Circle London to perform in this bi-annual competition.
The Inner Magic Circle London (with Gold Star)
A prospective member joins The Magic Circle as an associate and only gains full membership through examination. Through further examination, members can obtain higher degrees. However, membership of the Inner Magic Circle is by the call of the president only and is the highest level available. As membership is worldwide and only a limited number receive this high accolade, TJ is one of the few working in the world today. The Gold Star is awarded to those who are deemed to have the highest performance ability.
TJ is now an examiner for The Magic Circle London
The Magic Circle invited me to become an examiner. TJ accepted. The Circle still called upon him when he is in London. He hopes new members feel that he is encouraging and helpful.
TJ has always taken an interest in the entrance procedure. The Magic Circle doesn't just let people in, although they welcome new members they do need to prove that they are of a professional standard.
When a prospective member asks to join they attend an interview. If successful, the Magic Circle invites them to perform at the headquarters. Three examiners watch and allocate marks for different aspects of their performance and if the marks are high enough they can join the club. TJ is looking forward to meeting these new members some of which will be the future of magic.
TJ represented The Magic Circle London during its centenary celebrations in the States in 2005