Fleet Street Magician at The Punch Tavern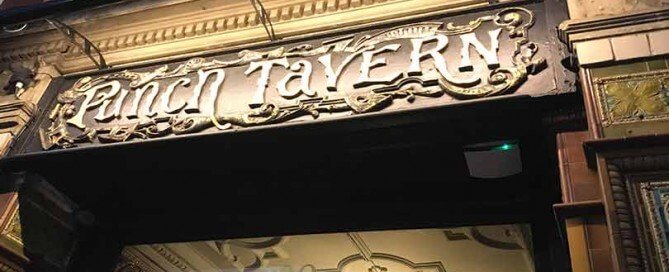 I was working as a London Fleet Street Magician in one of the most talked about streets in the city. What an excellent mid-week job this was. I performed close magic around the tables, followed by a short cabaret before the guest left for the boat trip home.
The Venue
The Punch Tavern gets its name from the legendary Punch Magazine. This former Gin Palace built in the 19th Century was popular amongst those who worked at the famous publication. These pub regulars led to naming this Grade II listed building in the 1840s. With its traditional Victorian decor and cozy atmosphere, it offers a welcoming retreat for locals and tourists alike.
The watering hole has retained its original character. The main bar remains, as does the rear dining room where I performed.
There is a large selection of gin, whisky, cask ale, and a good selection of wines. The seasonal food has a Sunday roast to entice customers into the city on a day off.
The Company
I was working for  Media Futures, a digital consultancy firm. The company was entertaining guests from around the world. Before arriving at the restaurant, they had taken a trip to the London Eye. They boarded a boat docked on the Thame, bringing them to the venue. Once they were settled, they were entertained with live music and magic while they ate.
"Thanks for last night, Tim. Everyone loved what you did. There were lots of nice comments on the boat home. I am sure I will be back in touch. But for now, thanks again."

Mike CEO
Fleet Street Magician for Hire
Table and stage magic can make quite a difference to your evening. So why not book an experienced award-winning magician for your next event. For a no-obligation chat and quote call or email us today. Tj Shoesmith, a Fleet Street magician, works throughout the UK, London and abroad.
To book just go to our contacts page and email or call. We are always happy to talk or chat about your event.