Wedding Magician in London at Skinners Hall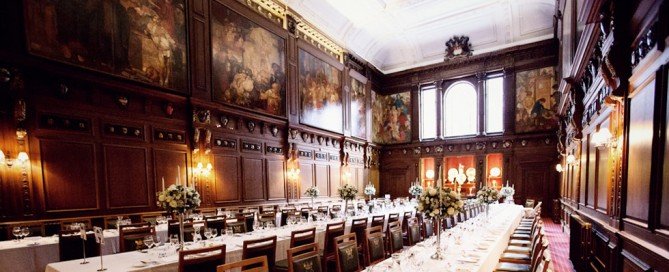 TJ Performs as a wedding magician in London. This is a wonderful wedding venue. A Neo-Georgian grade 1 listed building right in the heart of London. Perfect for weddings and close up magic. Skinners' Hall dates back to the 1600's and has many authentic features.
The Venue
The livery hall, home to The Worshipful Company of Skinners, showcases stunning architecture and artifacts reflecting its centuries-old history.
Nestled in the heart of the City of London, the hall serves as a hub for corporate and private events. Its ornate interiors, adorned with portraits and crests, provide a glimpse into the organization's influence and philanthropic work. From grand banquets and weddings to meetings, Skinners' Hall resonates with a sense of continuity and distinction, preserving the essence of the guild while embracing contemporary significance.
Tj performed on the summer terrace during the reception and then in the dining room during the wedding breakfast. This was a family occasion with adults and children. All had a great time.
Review for a Wedding Magician in London
We got this lovely email just after the wedding.
"We thought you were amazing at our wedding, as did our guests. My mum doesn't usually like 'card tricks' but she loved yours! We both still want to know how you made those cards move on the table!!!"

Booker
It was only when Tim got home and looked the hall up on my database that he realised that he had performed at this venue back in 2002 at one of his first corporate events.
Why book a magician for your wedding
Including a magician at a wedding injects an air of enchantment and fascination, making the occasion truly unforgettable. As an interactive form of entertainment, magicians engage guests of all ages, fostering connections and easing social interactions.
They infuse the event with bursts of energy during lulls, sustaining a lively atmosphere. Magic performances offer distinctive photo opportunities, encapsulating the joy and wonder of the day. By adding an unexpected and personalized touch, magicians create lasting memories and contribute to the couple's unique narrative, leaving attendees with a magical imprint of the celebration.
Tj works as a Wedding Magician in London throughout the year. If you are looking for a close up magician do give us a call.