Essex Close Up Magician at Crofters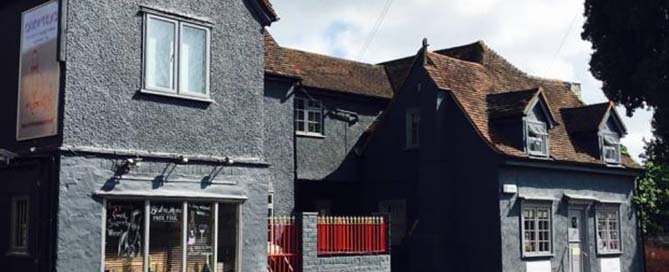 This summer I was invited to perform at a birthday party in Witham as an Essex Close Up Magician. I was asked to perform close up magic in the bar and on the terrace. This type of work occurs regularly during the summer months. In fact, up and down the country magicians are performing for parties and weddings at this time of year.
Essex Close Up Magician nearly competes with the World Cup
An English international football game was taking place when I arrived. This filled me with dread, magic is good but it doesn't compare to a world cup football match. However, the game finished just before I started and all was well. I'm not sure the result was to the guests liking but it did not seem to affect the atmosphere.
Crofters changed hands in 2004 and the new team have revised the menu and provided more diversity behind the bar as well. They intended to give the establishment an old English feel and definitely succeeded.
Artwork fills the walls. A couple of quotes from Churchill are featured on the brickwork. The management tries to use local produce on their menus. The ambience is appealing and full of character.
Luckily the weather was good and I spent much of the time showing tricks to guests outside. Some of the guests had not seen a lot of magic in the past. Certainly not live, so they were most enthusiastic. The time flew by and all seemed very happy.
Book a Magician
I work regularly as an Essex Magician. Indeed, Devious Minds has also toured in the area and I performed at the Harlow Playhouse and Victoria Theatre recently. So if you have an event in the area do give us a call on the number above, or email us from our booking page.