York Magician performs at the Museum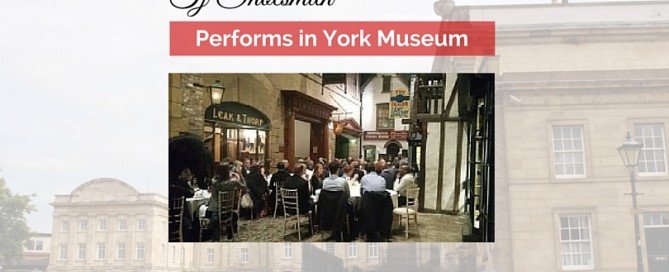 I have worked as a York Magician on many occasions. I was approached by Blandine, the European Affairs Manager for Benenden in early May to perform at a Corporate Event they were planning.
Benenden provides affordable private health care. They started their existence in 1905 to help postal workers suffering from Tuberculosis. They now have a membership nearing 900,000.
The corporate event included representatives from all over the world; for many of them, English was not their first language. This can cause problems for any performer, but my act is very visual, so whether or not you understand the language fully, it's clear for everyone to follow.
Blandline booked the York Museum and the Lord Mayor Cllr Sonja Crisp was in attendance. In fact, this was to be her last engagement before leaving office.
The York Castle Museum was founded by Dr John Kirk, a doctor from Pickering, North Yorkshire, and houses his extraordinary collection of social history, reflecting everyday life in the county.
One of its renowned displays is the reconstructed street, Kirkgate, which has been hugely influential in museum displays worldwide. The York Castle Museum is housed in a former debtor's prison and an adjoining former women's prison, which are Grade I listed. The museum's name comes from the fact it stands on the site of the former York Castle.
This was to be a very full evening, so we agreed that I would only perform for one hour and ten minutes, each of the five tables, followed by a short cabaret spot.
Following close up, magic with cabaret can work very well, especially for small groups, if it is done early enough in the evening.
The fact that some guests' English might not be fluent was not an issue. Magic is a visual art that can be performed with minimal direct communication. When performing in noisy venues, I will do it entirely silently if necessary. As with any good entertainer, I will adapt to the situation and perform as required for the audience's benefit.
York is about three hours from my home. People are often surprised that Magicians will travel so far from home, but I work throughout the UK and accept that driving is part of the job.
The traffic was good, and I arrived in York with plenty of time to spare. I even went to York Theatre Royal. Michael Pennington was performing in King Lear that night. I also saw that Jamie Raven's new show would be playing there later in the year.
Events at the Museum are well supported by management staff and catering. I was made to feel very at home by the event management team. The performance took part in the heart of the museum.
The Lord Mayor gave an excellent speech before I started. York is the one city which the Queen is required to ask before she can enter. I also learned that the Lord Mayor of York would be the next in line to the throne, IF (in the unlikely event) the Royal Family were somehow deceased.
To book a York Magician, please visit the booking page. TJ is available throughout Yorkshire and the UK